WELCOME TO PRINCESS NAXOS
RENT A CAR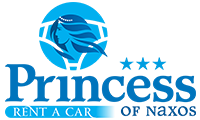 Welcome to Princess Naxos rent car, the best car rent company in Naxos. Premium car rental services in Naxos.
Princess of Naxos runs its own car rental company. Brand new cars in immaculate condition are available to you to explore and discover Naxos Island. Our office is located in the hotel front desk that makes the most comfortable place to rent a car.
Therefore The car is delivered in a destination chosen by our client -airport, port, hotel, or residence- by our company employees who will answer to any question the client may have.
However explore the breathtaking beauty of Naxos, elegant architecture and splendid landscapes, with the comfort of Princess car rental service and the most beautiful images and memories of the windy island!
Take advantage of our room & car packages and save money.